Art-Is-Yourself
Finally everyone can be an Artist
"I can do that too!"
"Everyone is an artist"
Joseph Beuys (1921-1986) was wrong on this one.
Until Now:
Art-Is-Yourself (Artist D.I. Y. Kits)
Would you like to own an artwork, but you cannot afford it? Here is the solution: with Sebastian and Elkes' Sensational Artist D.I. Y. Kits.
This art-project is an ironic response to the commercialisation of arts. In my former artwork I experimented mainly with recontextualisation of everyday objects and the analysis of the phenomena in everyday life with various media like photography, video and interactive installations as well as prints and performances. What does it need to make Art, to be an Artist? Can we copy Art by using the same materials or is it the idea, the concept itself that makes it valuable?
To see all our fabulous Artist D.I.Y. kits, visit:
www.art-is-yourself.com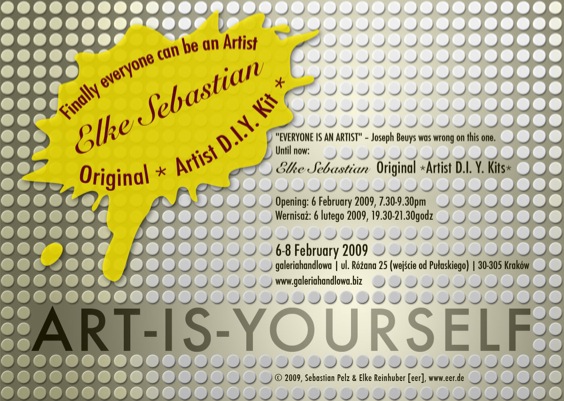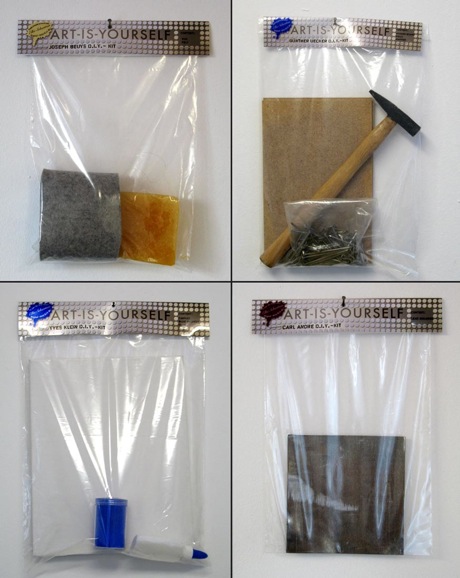 A list of 20 pre-packed Do-it-yourself kits, others on request:

Pipilotti Rist Flower, VCR tape
On Kawara blank postcards, date stamp, ink pad
Günther Uecker nails, hammer, wooden board
Yves Klein blue pigment, glue, canvas
Banksy stencil, spray can
Damian Hirst assortment of pills, medical chest
Robert Ryman white colour, white board, brush
Rebecca Horn wool, knitting needles, feathers
Christo string, wrapping paper
Dan Flavin neon light (on display in the gallery space)
Donald Judd acrylic glass, superglue
Jeff Koons modelling balloons, metallic spray paint Joseph Beuys wax, felt
Carl Andre lead-squares
Lucio Fontana canvas, cutting knives
Meret Oppenheim cup, saucer, spoon, fur, glue
Jackson Pollock canvas, assortment of oil paint tubes, protective suit
Salvador Dalí beard
Kara Walker black paper, scissors
Piet Mondrian red, yellow and blue paint, brush, black tape

The packages will hang on a hook or a nail at the walls like in a shop-display situation.

Exhibited: Galeria Handlowa, Krakow, February 2009

< back to overview

Holen Sie sich die Meisterwerke zeitgenössischer Kunst nachhause! Machen Sie die Werke doch einfach selbst. Das können Sie auch! Und das Beste: es ist ganz einfach!


Finally online – our fabulous Artist D.I.Y. kits:
www.art-is-yourself.com