Everything could be so much better!
Immersive installation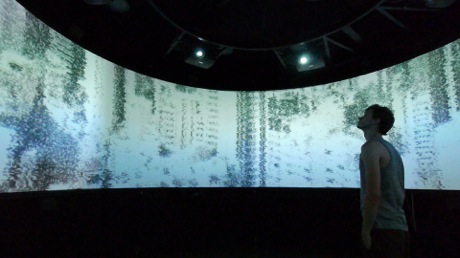 With this work Elke Reinhuber is imagining a world in which only robots are extant. They are continuously repeating the phrases which they learned while humans were only wondering how our planet could be saved.
Wenn die Menschen die Rettung der Erde immer auf morgen verschieben, werden sich eines Tages nur noch die Roboter fragen, wann es soweit ist... Mit dieser Arbeit erschafft Elke Reinhuber eine Welt, in der nur Roboter existieren. Sie wiederholen pausenlos die Phrasen, die sie lernten, während sich die Menschen darüber Gedanken machten, wie unser Planet gerettet werden könnte.
Die Arbeit entstand für ein Hörspiel Festival in Zusammenarbeit mit Sebastian Pelz und wurde dann für audio-visuelle immersive Umgebungen erweitert.
Audio: Sebastian Pelz and Elke Reinhuber
Please
klick here
for installation sketches and further descriptions
Upcoming screening:
3D-Beyond Festival, 3.-6.10.2013, ZKM Karlsruhe