A/C
The sun is burning hot, there is no wind and the night brings no relief. During the hot season, Cairo's closed rooms become uncomfortably warm and stuffy.
Air-conditioning has been invented to battle these exact conditions – and this is why there protrudes a rattling box beneath every pane in posh buildings and apartments, from which pipes and hoses grow rampant, to let the condensation drip onto the street.
The façades are tiled with refrigeration machinery, hanging as small cages under windows. On the pavement the rivulets gather in filthy little puddles, so that passers-by are forced to look alternately upwards and downwards.
In the chilled stores and offices on the other hand, autumnal temperatures around 17° prevail.
How nice it would be if the climate could be distributed more fairly.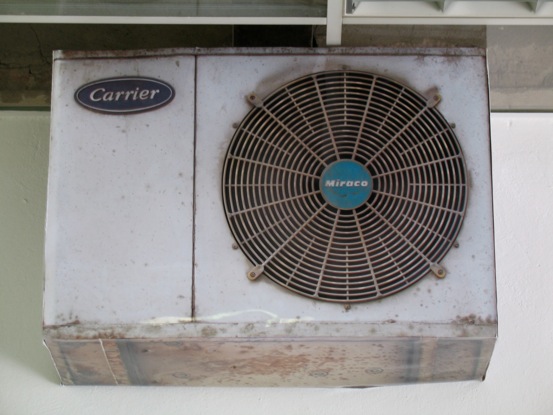 Installation with photographic objects and water drip.
Exhibited at Damensalon, Hammer, Berlin, August/September 2008
< back to overview
Die Sonne brennt, es geht kein Wind und auch die Nacht bringt kaum Abkühlung. Während der heißen Jahreszeit wird es in Kairo auch in geschlossenen Räumen ungemütlich warm und stickig.
Genau dafür ist die Klimaanlage erfunden worden und daarum hängt aus jedem Fenster der besseren Büro- oder Wohngebäude ein schnarrender Kasten, aus dem Rohre und Schläuche wuchern, um das Kondensat auf die Straße tropfen zu lassen. Die Fassaden sind gegliedert durch die Kältemaschinen, die als kleine Käfige unter den Glasscheiben hängen, auf dem Trottoir sammeln sich die Rinnsale in dreckigen Pfützchen, so dass die Passanten gezwungen sind, abwechselnd nach oben und unten zu schauen.
In den gekühlten Geschäften und Büroräumen herrschen dagegen herbstliche Temperaturen um die 17°. Wie schön wäre es, wenn die Wärme gerechter verteilt wäre.

Installation mit Fotografischen Objekten und Wassertropf