In Quest of the Alpine Glow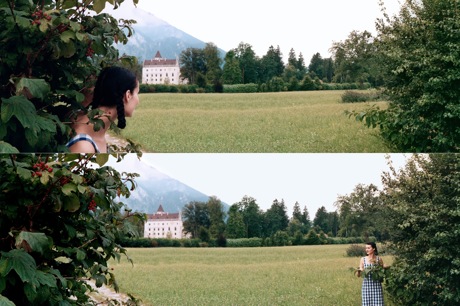 The idyll is not for keeps. Even if the frames in this movie freeze over and over again, they cannot show more than a glimpse of the sublime. In this projection on two adjoining screens the viewer is meant to get lost.2-channel video projection, 8 minutes, variable size; 6 pairs of colour prints, each 1' by 1'6"
< back to overview
Auf der Suche nach dem Alpenglühn
Das Idyll läßt sich nicht festhalten. Auch wenn diese Bilder immer wieder einfrieren, mehr als eine Ahnung der Erhabenheit können sie nicht vermitteln. In der über Eck projizierten Videoinstallation wird der Betrachter eingeladen, sich zu verlieren.