Profile-neurosis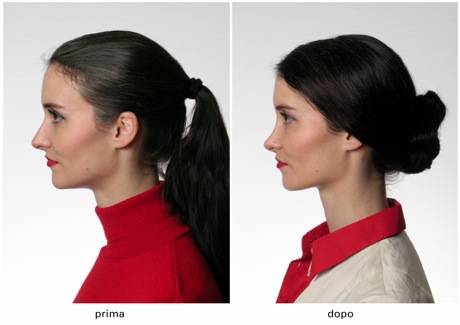 Phase 3

The mirror does not always reflect, what we want to see. But there are ways to find the self-portrait you were looking for. Even if beauty in the eye of the beholder, the surgeon sees it as an entity.6 pair of colour prints, each, 6" by 8"
< back to overview
Profilneurose

Der Blick in den Spiegel porträtiert uns nicht unbedingt so, wie wir uns selbst sehen. Das muss aber nicht länger so bleiben. Denn auch wenn die Schönheit im Auge des Betrachters entsteht, für den Schönheitschirurgen ist sie ein Faktum.

'Hexenprofil' dachte ich oft, beim Blick in den Spiegel, oder wenn mein Schatten an mir vorbeihuscht. Die kosmetische Chirurgie verspricht Abhilfe. Doch werden wir deshalb glücklicher, besser, schöner, liebenswerter? Erst die Nase, dann das Kinn, noch etwas mehr, zu wenig Ausdruck, maskenhaft und starr, mehr Individualität, vielleicht war der Ausgangspunkt doch der beste...