Decidophobia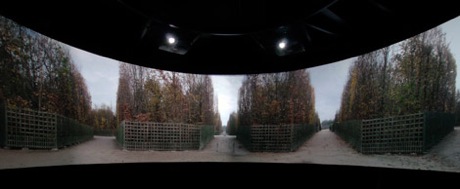 The current quarrel between neuroscientists and moral philosophers about whether there is a free will or only a surrogate thereof provided by the subconscious cannot be settled easily. Instead Elke Reinhuber offers to see for yourself in her work for five screens: Decidophobia.
Decidophobia documentation from eer on Vimeo.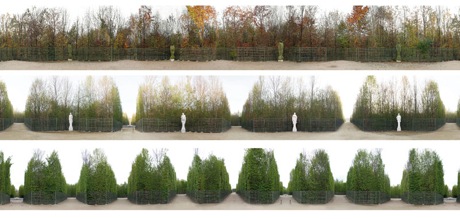 Please klick here for the interactive single screen version:
DECIDOPHOBIA
In the panoramic video installation 'Decidophobia', the viewer is confronted with the difficulty of choice. A perfect labyrinth is all around, no orientation is possible, paths appear and disappear again, vanish completely, but new possibilities open up. The soundtrack underlines the visual experience: passers-by are expressing their confusion by questioning where they actually are, where they should go to, which path to take and where they came from. A Babel-like chatter in eight different languages from different directions enhances the confusion. It is difficult to focus on one voice, on a familiar language, which leaves the viewer with the impression of a missed conversation, a missed opportunity.
Download the
Decidophobia Booklet (2 MB)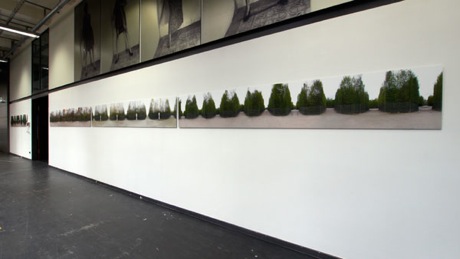 Eine barocke Parkanlage zu durchqueren, stellte im Absolutismus keine Schwierigkeit dar, alle Wege führten zum gleichen Ziel, zum Zentrum der Macht. Die Sonne, um die die Höflinge zwischen den Hecken und Baum-Quarrées oder den Terrassen und Brunnen kreisten, bezeichnet einen Mittelpunkt, der in heutiger Zeit verschwunden ist. Nun sehen alle Wege gleich aus, und die Besucher sind verwirrt von der Vielzahl der Möglichkeiten.


Decidophobia from eer on Vimeo.

In der Panorama-Videoinstallation »Decidophobia« wird der Zuschauer mit der Schwierigkeit der Auswahl konfrontiert. Ein perfektes Labyrinth breitet sich rund um den Betrachter aus, Wege zeigen sich und verschwinden wieder, hier scheint keine Orientierung möglich. Die Tonspur unterstreicht das visuelle Erlebnis: Passanten teilen ihre Verwirrung in einem babylonischen Sprachengemisch, fragen einander nach der Richtung und der korrekten Entscheidung. Es ist schwierig, einer einzigen Stimme zuzuhören, sich auf eine vertraute Sprache zu konzentrieren, so daß der Zuhörer glaubt ein Gespräch zu verpassen, wie eine Gelegenheit.

In der Frage, über die sich derzeit Neurowissenschaftler mit Moralphilosophen streiten, ob es überhaupt einen freien Willen gebe oder ob das Unterbewusstsein uns nur einen solchen vortäusche, möchte sich Elke Reinhuber auf keine Seite schlagen, sondern mit der Versuchsanordnung »Decidophobia« dem Betrachter selbst das Urteil überlassen.