Is it in my Hands?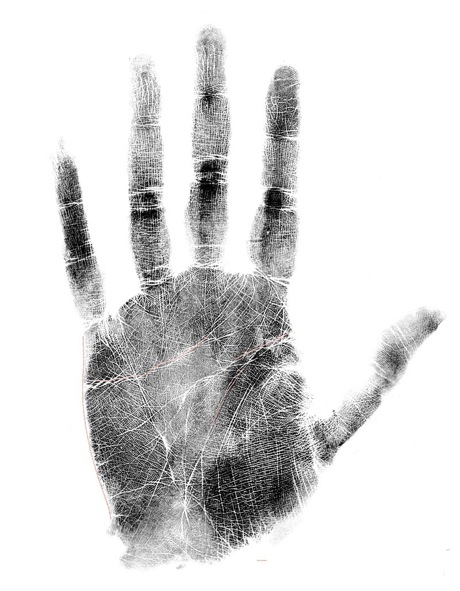 Most probably there exists a proverb by that forgotten satirist, who conceived some of the wittier remarks attributed to Oscar Wilde, saying something like: "It is one of the wonders of today, that the present is the same drag at any other day, but in the newest fashions."
As the soothsayer with his crystal ball moved to the Internet long ago, the palm reader migrated from his tent into an application for smartphones. Basing their prophecies on a photograph of a palm, the competing programs can, courtesy of occult algorithms, automatically make assessments about your future life as well as your chequered past.
On large-format prints these evaluations were disposed by Elke Reinhuber along the appropriate lines of the hand. This piece explores whether our life is predetermined, or if we have it in our own hands, what could happen with us. Should that be the case, making significant decisions would mean also leaving visible marks on our palms.
Developed in the course "Selfdesign", supervised by Frederik Busch.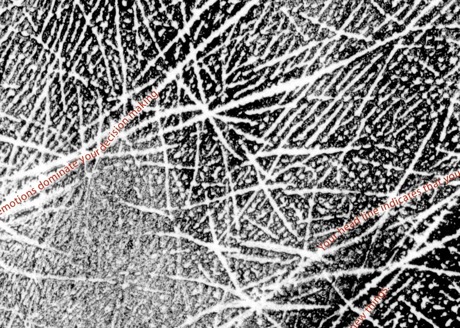 Mit dieser Arbeit erkundet Elke Reinhuber, ob unser Leben vorbestimmt ist, oder ob wir es selbst in der Hand haben, was damit geschieht.
Sollten wir selbst Einfluss darauf haben, müssten sich doch auch die Linien auf unseren Händen anpassen, wenn wir wegweisende Entscheidungen treffen.

Zur Vorbereitung hat die Künstlerin verschiedene Smartphone-Apps befragt. Diese kleinen Programme analysieren die Handlinien anhand eines Fotos, um dann automatisch eine Beurteilung abzugeben. Ob diese verschiedenen Softwareanwendungen kongruente Aussagen über ihr Leben getroffen haben, lässt sich in einem Klappbuch mit 100.000.000 möglichen Kombinationen überprüfen.
Eine Auswahl der Handabdrücke wurde um ein vielfaches vergrößert und zeigt eine Visualisierung verschiedener Interpretationen ihrer Handlinien.
Der eigentliche Kern der Arbeit ist jedoch ein Langzeitprojekt. Elke Reinhuber wird von ihren Händen täglich einen Abdruck anfertigen und diese über die Zeit vergleichen.
< back to overview