Decisions with 3 Tesla [Entscheiden mit 3 Tesla]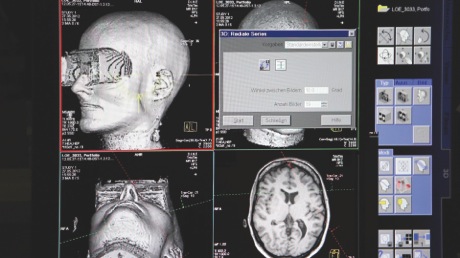 Bild des Kopfes und Gehirns in den X-Y-Z-Achsen. Für die Forschung am D.I.N.E. ist nur die Ansicht des Gehirns von Bedeutung, die weiteren Darstellungen haben jedoch Relevanz für medizinische Untersuchungen.
Images of our brain, captured with the means of functional magnetic resonance imaging (fMRI), assist neuro-scientists to decipher the mechanisms of our thoughts. With a field intensity of three Tesla, state-of-the-art brain scanners offer a superior resolution.
Can processes in the brain be visually represented, when we make decisions?
Elke Reinhuber participated in a study on decision-making processes about portfolio investments, carried out at the Dahlem Institute for Neuroimaging of Emotions (DINE) at the FU Berlin.
Bilder, die mit funktioneller Magnetresonanztomografie (fMRT) von unserem Gehirn aufgenommen werden, helfen der Neurowissenschaft, unsere Denkmechanismen zu entschlüsseln. Moderne Hirnscanner mit einer Feldstärke von drei Tesla ermöglichen dabei eine hohe Bildauflösung. Wie lassen sich die Abläufe im Gehirn visuell darstellen, wenn wir Entscheidungen treffen?
Elke Reinhuber nahm an einer Untersuchung von Entscheidungen über Portfolioinvestments teil, die am Dahlem Institute for Neuroimaging of Emotions (DINE) der FU Berlin durchgeführt wurde.
Les images prenant naissance dans notre cerveau par le truchement de l'imagerie par résonance magnétique fonctionnelle (IRMf) aident la neuroscience à déchiffrer nos mécanismes de pensée. Avec une intensité de trois Tesla, ces scanners de cerveau modernes offrent une haute résolution. Comment représenter visuellement les processus de notre cerveau au moment de prendre une décision ?
Elke Reinhuber a participé à une étude portant sur le processus décisionnel des investissements de portefeuille, réalisée au Dahlem Institute for Neuroimaging of Emotion (D.I.N.E.) de la FU Berlin.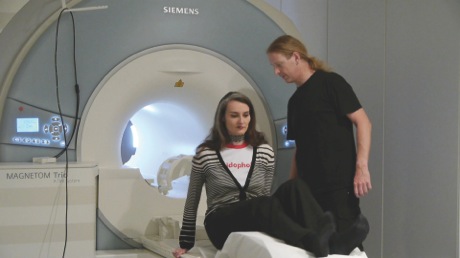 Elke Reinhuber wird für die Untersuchung im fRMI Gehirnscanner am D.I.N.E. vorbereitet.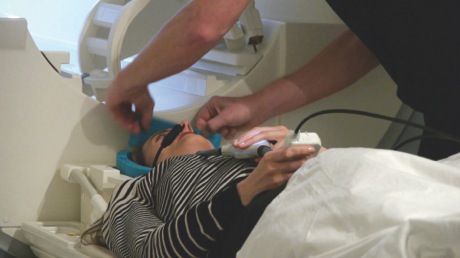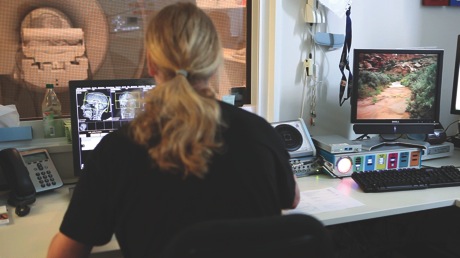 Während der Messungen werden der Probandin in der Röhre Bilder über eine Videobrille gezeigt, die ebenfalls auf dem Kontrollmonitor im Labor zu sehen sind. Ein Techniker schaut auf einen Monitor mit den Hirnscans. Im Hintergrund ist der Scanner durch eine Kupfer-isolierte Scheibe zu sehen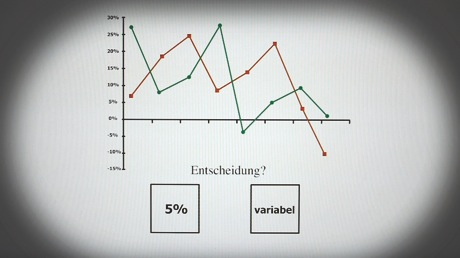 Hier ist eines der 256 Bilder zu sehen, die der Probandin innerhalb von 40 Minuten gezeigt werden. Das rote Rechteck zeigt die aktuelle Entscheidung von Elke Reinhuber: sie würde nach dieser Kurve ihr Geld lieber variabel anlegen als mit der sicheren 5%-Rendite.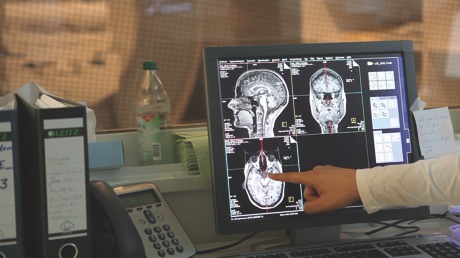 Der Neuro-Ökonom Dr. Mohr zeigt am Gehirnscan von Elke Reinhuber, wo sich die Amygdala und das Stryatum befinden.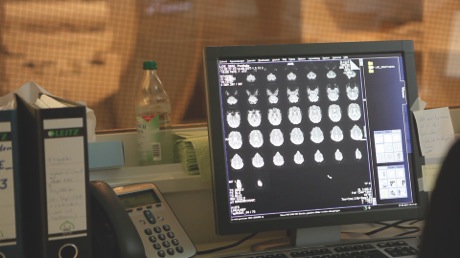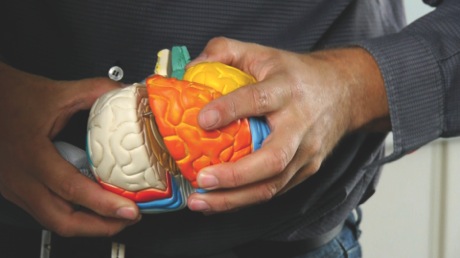 Ein Gehirnmodell in den Händen von Prof. Dr. Heekeren, der auf die Vernetzung der einzelnen Hirnregionen verweist.