Trolls with Twinges of Conscience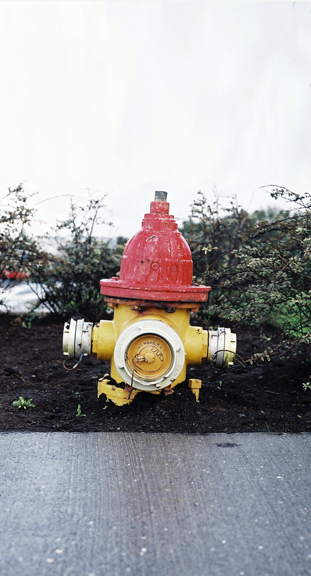 In Iceland, so I was told, trolls and elves, these ill-mannered creatures, are still living nowadays. Whilst plotting their mischief in the dark, it is nigh impossible to get a glimpse of them. Yet during the day they stand rigid at some street corners in the guise of fire hydrants.
Perhaps punished by the Master of the Trolls for pyromania or other pranks, they must now suffer for their hoaxes, frozen along the roads.
A series with 101 pictures of Icelandic trolls *
*101 being the postcode of Reykjavík
< back to overview
Trolle mit Gewissensbissen
In Island, soviel ist bekannt, soll es Trolle geben, jene ungehobelten Wesen, die allerhand Schabernack aushecken. Wenn sie im Dunkeln ihr Unwesen treiben ist es fast unmöglich, sie zu Gesicht zu bekommen. Aber des Tags stehen sie starr an so mancher Straßenecke und sehen aus wie Hydranten. Vermutlich sind sie vom Trollkönig für Zündeleien und andere Streiche bestraft worden und müssen nun für ihre Scherze, an den Straßenecken erstarrt, büßen.

Serie mit 101 isländischen Trollen (101 ist die Postleitzahl von Reykjavík).