The Proof of the Prescription is in the eating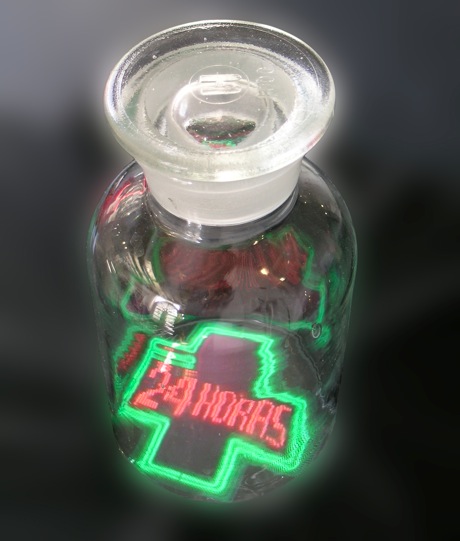 In case of an emergency – food poisoning, collapses or other symptoms – it is convenient to find a chemist close at hand. In Madrid it is an easy task, because the garish green and scarlet neon crosses of the drug vendors shine over a great distance. They flash and flicker and show various graphic patterns, catchphrases, self-promotions, and even references to ancient computer games. How do these pharmacists create their sculptures of light - do they swallow their own medications?
< back to overview
Immer wenn sie Pillen nahmen…
Im Notfall, bei Vergiftungen, Schwächenfällen und sonstigen Krankheitssymptomen, ist es angenehm, sofort einen Arzt oder einen Apotheker zu finden. In Madrid ist es ein Leichtes die bereits von weit her sichtbaren Zeichen der Arzneimittelverkäufer zu entdecken. Giftgrün und Scharlachrot leuchten die viel versprechenden Kreuze.
Grünes und scharlachrotes Fieber vergiften das viel Versprechen rot, das Kreuze sich beleuchten.
Sie blinken und flackern und zeigen allerlei periphere Informationen, grafische Muster und Computerspielzitate. Man wüsste nur zu gerne, welche Pillen die katalanischen Apotheker zu diesen Werken anregen…

Videoloop unter Apothekerglas, 12 min.


Exhibited: Poison, Medicinal plant garden, 2005, TU Braunschweig
HBK Braunschweig, 2005