Catercorner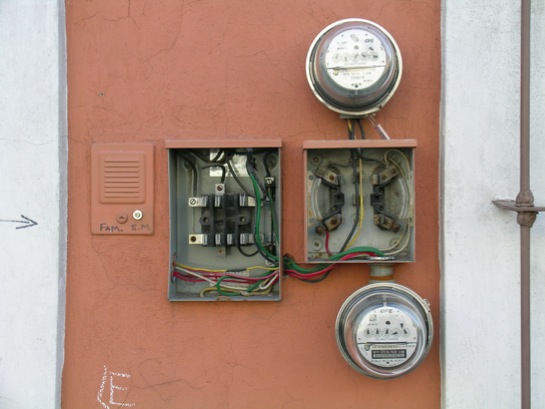 Corners accumulate the dust and the remnants of everyday life. The edges of space do not only remain unconsidered, but grow to be brimful with the refuse of civilisation. The necessary things of daily life, which are yet only reasonably accepted while needed, can be packed away: out of view, but at hand.
Elke Reinhuber observed the abandoned corners with special sympathy to finally settle there with her pictures of fire extinguishers, pipes, hydrants and power meters.
10 photographic images, sizes: 20x30, 30x45, 50x70cm.
Exhibited: Royal Scottish Academy, Edinburgh, October/November 2007,
< back to overview
In Ecken sammelt sich der Staub, der Überrest des Alltags. Die vernachlässigten Grenzen/Kanten des Raumes bleiben nicht nur unbeachtet, sondern werden deshalb auch angefüllt mit dem Unrat der Zivilisation. Die Dinge, die aus den Erfordernissen des täglichen Lebens heraus zwar notwendig, aber doch nur leidlich akzeptiert sind, lassen sich hier abstellen: aus dem Weg, aus dem Blick, aber griffbereit. Elke Reinhuber hat die ungeliebte Ecke mit besonderer Anteilnahme beobachtet und gleich selbst bezogen.