Title
: Secret Detours
Media
: 360° video
Year
: 2017
Secret Detours from eer on Vimeo.
Description
:
Secret Detours engages the audience with overwhelming vistas in a full spherical presentation, encompassing the viewers from all angles.
The movie short is set within a lush Chinese garden, adapted from the great traditions of imperial landscaping – in the Yunnan Garden in the West of Singapore. Four dancers, dressed in the colours of the cardinal directions, examine the spaces, the paths and the detours of the green scenery. The 360° video relates to the experience of being surrounded by mythological creatures and their traces inside the garden. As the beautiful layout of the grounds is composed from a range of intersections with multiple meandering paths to choose from, the omnidirectional video invites similarly to explore the atmosphere between an exquisite selection of trees, shrubs, bushes and pieces of architecture.
Team
:
A work by Elke Reinhuber &
Benjamin Seide and Ross Adrian Williams
Director: Elke Reinhuber
Producer: Elke Reinhuber, Benjamin Seide and Ross Adrian Williams
Director of Photography: Benjamin Seide
Sound Design and Music: Ross Adrian Williams
Edit: Elke Reinhuber & Benjamin Seide
Choreography: Susan Sentler, Lasalle College of the Arts
Dancers: Chua Pei Yun (East, Azure Dragon), Tan Zi Wen Vasantha (South, Vermillion Bird), Tan Ling Lynn (West, White Dragon), Lim Wei Li Valerie (North, Black Turtle)
Costumes: Elke Reinhuber & Wee Sher Ying
Additional support: Chen Yu, Clara Chong, Dorothy Yip Woon Yee, Azrizal Bin Abu Che, Dylan Goh, Sulaiman Abdul Rahman, Ahmad Azahki Bin Mustafa
Recording and stitching: Hiverlab
The production of the work was kindly supported by NTU Singapore.
Special thanks to Alan Chan, Vibeke Sorensen, KK Luke and Andrea Nanetti as well as Lasalle College of the Arts, Singapore
Exhibited
:
To this date, the work has been presented in a range of set ups, from online on a small screen, a planar video wall up to a variety of immersive environments.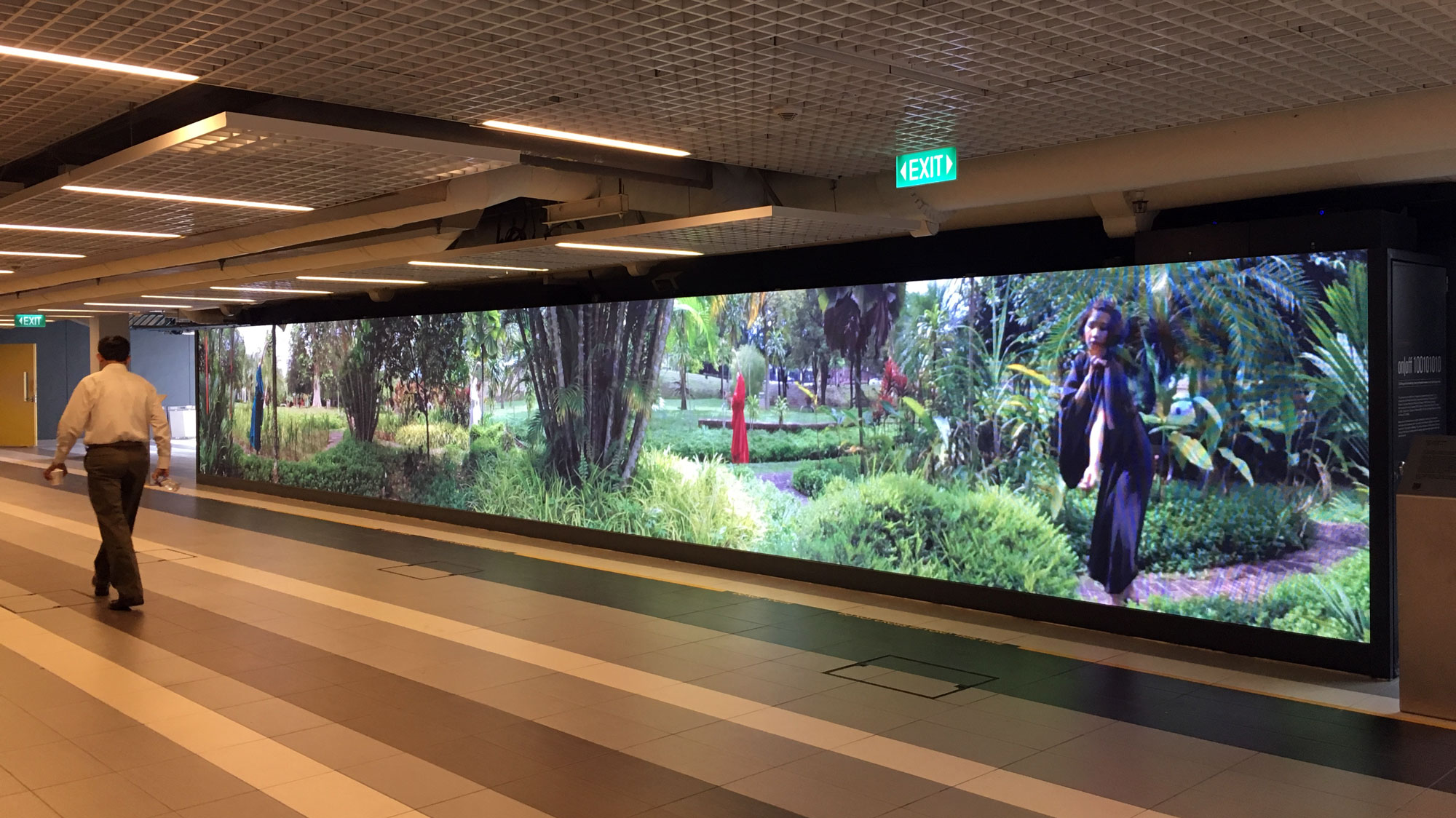 MAN (Media Art Nexus) at North Spine, NTU Singapore, Curated by Ina Conradi
May 5, 2018
© Screen Festival
, Screendance, Museu d'Art de Cerdanyola. Can Domènech, Spain
Academic Publications:July 10/11/12, 2018
»
The Scale of Immersion: Different Audio-Visual Experiences Exemplified by the 360° Video Secret Detours
«
Presentation with Benjamin Seide and Ross Williams at
EVA London 2018
, BSC British Computer Society, London